Instructor Led Online Training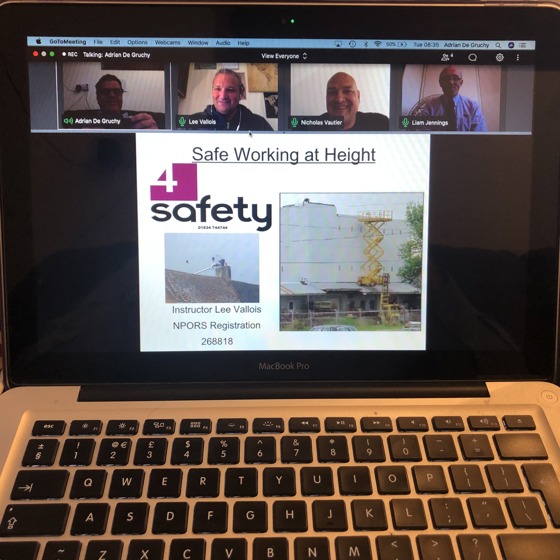 Are you in Isolation, as a result of Contact Tracing?
Why not complete the theory section of training whilst you are at home?  Once your able to circulate, you would simply need to pop to 4safety to complete the practical assessments.
As many of us are now working from home or unable to travel at this festive period due to the coronavirus, we are pleased to announce that the theory section of all of our courses can now be taken remotely online, via video link.
All courses are delivered live by our instructors allowing you can ask questions in real time. To maximize the learning experience, you can interact with both the Instructor and the other delegates just as they would in a classroom at our 4safety training facility. 
Some of the courses will require you to return at a later date to complete the practical session of the assessment, but the theory will have been completed whilst physical distancing. Some practical sessions can be completed as a group and others on a one to one basis at booked times in the future.
Advantages
A huge personal development opportunity
Physical distancing compliant
Social interaction, which is good for mental health
Engagement with colleagues
Specialist Instructors to ask questions and get feedback
An arranged practical follow up to complete the course, if required.
A scheduled time which is planned in advance
Flexible training solution for customers and delegates
Requirements
Full names and addresses of the delegates and their employer
Your email address for the delegate
Wi-Fi and a device; phone, tablet, laptop, PC with speakers and a microphone
A notebook and pen
If a practical is required, then this will need to be completed on a one to one basis or within 3 months, subject to change depending on Gov.je guidance
Please note we can make arrangements to have a translator available for the theory session or a scribe for the theory assessment, but this must be booked in advance.
Overview
Call or email to discuss how we can tailor the training to your specific requirements
Course Information
Call or email to discuss how we can tailor a package for your specific requirements